Acid Plant - Petro Chem - Industrial

Engineered Dampers & Valves
|
home


About ASC

Application Sales Corp. (ASC) is a well-established company of twenty-seven years. John Power incorporated the business in Illinois, USA May of 1989. His experience in the damper and valve business covers over forty-four years with emphasis on design and sales of engineered dampers and valves for Acid Plants, Environmental, and Industrial applications.
ASC designs & manufactures fabricated Powercam® HPBV's, Butterfly-ASCBVM, Refractory Lined-ASCRBV, Flex-Wedge Gate-ASCFW, and Jug-ASCJV valves for isolation or throttling of flow control. They are proven by years of excellent operation in many facilities throughout the world. Improved designs to provide performance for many years of service with little or no maintenance.
Sizes range from 6"-120", Powercam® 6"-84" (larger per application). Materials of construction for the service conditions, including Carbon & Stainless Steels, Chrome-Molys, Hastelloys, and Inconels. Minimum 316 SS shafts for optimum strength and long service, SS taper pins to secure shaft and disc connection. Air purged `0' leakage spring-loaded flanged stuffing boxes with outboard-flanged ball bearings. These improvements, as well as others, have assisted many acid plants in reducing emissions to atmosphere as well as improving their processes.
Powercam®
Tight Shut Off Eccentric Seated Metal to Metal Butterfly Valve
for Start-Up Preheater Gas Block and Blower Isolation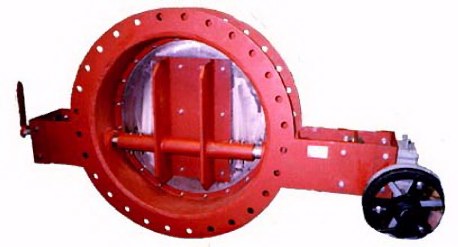 The Powercam® valve was developed during the companies early years to supply acid plants with a tight shut off isolation valve. The valve is fabricated to any size or flange dimension, flanged for in-line welding and weld ends. The Powercam® is a tight shut off, ANSI CL IV or better, double eccentric butterfly valve.
To further enhance its Acid Plant capabilities ASC designs and manufactures butterfly valves with metal (bump) seats for gas duct applications, Flex-Wedge Gate valves for main compressor isolation, Jug valves for boiler-by pass, and Refractory BV's for the boiler outlet.
ASC dampers and valves are utilized in Acid Plants, Environmental, and Industrial applications. Web Site:
www.asc-valves.com